[1-DAY PJ Session 1] – Learning An Entrepreneur Thriving Online Business!
Until ()
About this Event
Registrations Are Closed
Thank you for your registration. Our personnel in-charge will contact you soonest after receiving your complete registration.
Be Learning A Profitable Business Skill For A Thriving E-Commerce Business With A Proven System Leveraging By Thousands Globally
E-Commerce should be a 24/7 thriving business worldwide! It is expected to grow over 250% by 2021. The ex-executive chairman & cofounder of Alibaba, Jack Ma even says it is just the beginning of E-Commerce. Similarly in Singapore, E-Commerce is not fully tapped into and is, and will be growing exponentially the next few years.
So if you want to take advantage of E-Commerce, we'll show you how to start and build your very own E-Commerce Business based on our PROVEN SYSTEM and Methodology well taught by our experts. So what if now you're taught in doing online business through a C-Commerce model selling to a worldwide market in need?
Well when you come & complete this 2-hour +/- C2C Entrepreneurs' Workshop, you will have a step-by-step understanding to plan for yourself that you could be starting and building your own Global Online C-Commerce Business platform that generates ongoing sales & increasing your profits as the global demand comes.
TODAY! The BIGGEST PROBLEM people faces when setting up their E-Commerce Business:
• Do not know the CORRECT steps to get started?
• Finding right PRODUCTS IN DEMAND that can generate good returning profits yet the world are buying from CHINA and their sources yet selling the same without accountability.
• The high cost of stocking inventory unknowingly yet thinking there is a huge marketplace which aren't across border in many countries due to trade issues.
• The hassle of expensive drop-shipping to customers by arranging expensive postage services locally to the world
• No extra cash to upgrade their E-commerce system yet constantly paying official payment gateway to set-up your receiving and refund matters often?
• Having to always learning new marketing method(s) and investing more money later & increasing advertising budgets because the goods are simply easy to buy sell.
• If you don't sell online face-to face via social marketplace(s), nobody will be buying from you continuously. Not GOING LIVE means No Sales and no LNS no viewers.
We have a NASA built-up technology with global proven turn-key Desktop & Mobile platforms with full advertising digital support on your fingertips that is specifically designed for working people who has no time market but extra the edge to share yet wanting to overcome all odds dealing the complicated steps in Sales & Marketing while you're new in business with low capital yet many sleeping shareholders, more importantly needed to start-up a TRUE E-Commerce Business while working and studying too.
After starting up you will be channeling through & with a Thorough & Regular Online Mentorship(s), 1-1 Business Consultation and Step-By-Step Guidance & even with Classroom Trainings, all will be provided to assist you to get-in-touch FAST coupled up with your willingness and a new found enthusiasm to learn more and be business minded and coachable by simply discovering the Upwards E-Commerce Trends from Google Trends as a new Business Entrepreneur, within our network of communication tools in place that will empower you gradually with updated Social Media Marketing techniques from coaching expertise(s) from Singapore and USA.
Who should attend this C2C workshop?
• Working Adults who are constantly feeling guilty of spending too much time at work with the same pay year after year with little increments & a subjective bonus!
• Stay-at-home people who wish to contribute more to family income with some surplus+
• Working class who want to have a slight chance To Becoming Your Own Boss!
• Existing E-Commerce business owners with stagnant progress and want to see improvements with more products to offer…
• Want to start a low risk at low capital injection to try out something
• Maybe a career change and exploring new option in life while you can
• Mid-life workers who always want to earn residual income from their 9-6pm+1 salary jobs
• Individual who wants to discover new things within a community of personalities for fun & laughter
• Young people who wants to learn from successful business owners to advise & learn from them to be have a work-life balance yet be able to fulfil your own dreams.
If you want to set-up a profitable E-Commerce Business right away, you're just here for the right purpose to hear and see for yourself at our upcoming FREE Powersharing workshop(s) exclusively for you to gain insights & valuable business trending knowledge where you will discover;-
• The cheapest way out to start your own business online without commercial & business skill sets
• Spot-on trending products and you like and market them with skills
• Without having to buy, stock-up and shipping products here & there which is constant overheads to bear before any pure profits
• Activating this business from the palm of your hand via your mobile On-The-Go is made possible here
• How to expand your E-Commerce Business globally to as many countries connected and make more money while travelling abroad too
• Stay connected globally with your business APPs 24/7 and monitoring your Sales & Earning figures with online tools provided
This workshop is designed to help struggling working class to breakthrough of their routine for FREEDOM OF TIME by supporting their income with high inflation rates & weakening economy yet having a full-time job.
This money-making option is NOT FOR ALL but certainly a new way to relook at your options within your lifecycle so to live better, work smarter and free out more time to pursue your passion.
Why foolishly seek to hold on to a 9-6+ "unfulfilling job" with only a stagnant growth salary for life and maybe until you retire simply because you cannot be schooling yet you need more skills to skillfuturing your possibilities?
This is a Limited Seats Session So To Register Early so to avoid the ONLY chance to attend for FREE! We will ONLY invite you to attend if you're eligible after doing our current business assessment.
Check out our website for more details - Beeming Success Global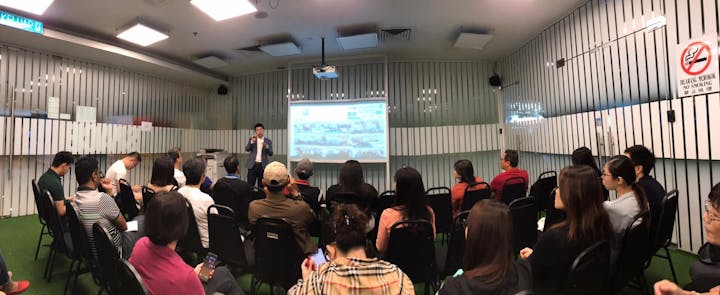 When & Where
G20 Oasis Village
Jalan PJU 1a/3, Ara Damansara Petaling Jaya, Selangor 47301, Selangor, MY

Until

()
Organizer
Beeming Success Global
Beeming Success Global supports entrepreneurship in empowering many around the world from Singapore with the advancing knowledge by offering global opportunities to be working closely with a Global Connecting Platform with a Trusted Binary System Integration allowing the business owners to transact efficiently with the state-of-the-art business tools on desktop & mobile commerce capability transacting business On-The-Go globally.
Ride On To Discover For Yourself On How To Leverage A Global E-Business In Demand With An Exponential Outcome!