Negotiation & Conflict Special Intelligence Training Program
Until ()
About this Event
SPECIAL INTELLIGENCE TRAINING PROGRAM. BY INVITATION ONLY. Wait list open. Only qualified candidates will be invited to the Program.
Is it possible to go from a Nervous Nellie to a Godfather in conflict & negotiations?
How to go from being just another clueless bystander to an all-powerful master of conflict & negotiations in 2 days ... without 20 years experience in practice, a brain transplant, a team of lawyers or a gang of mobsters
You Are a Busy Professional
You manage high-stakes deal-making & disputes and it's IMPERATIVE YOU manage things smoothly…
You don't have time to learn 100+ different theories on the psychology of negotiation & conflict ... you just want ONE complete end-to-end system that will explain EVERYTHING & return real results …
You Have Tried It All
You've had enough experience with complaint procedures, disciplinary action, litigation etc ...
You've hired a team of lawyers ... that said you needed legal advice for $20,000 before you could do anything ... before you know it you're heading to trial and fighting a losing battle ...
You've tried re-shuffling your organisation, new policies and re-drafting contracts to avoid another disaster ...
You've tried reasoning with unreasonable people ...
And You Still Fail
You fail miserably, publicly, shamefully ...
You Don't Need to Do This Anymore
I HAVE DEVELOPED A PROGRAM that takes away …
The never-ending soap dramas of dealing with unreasonable people ...
The shifting goalposts and mind games that people use to win in negotiations & disputes ...
The need to become a quack or the next Freud before you figure out what the fork is really going on in negotiations & conflict ...
Introducing Dispute Intelligence² (DQ²), an invitation-only global training program in special intelligence for high-stakes deal-making and disputes - and the only program in the world to teach special intelligence training in negotiation & conflict practice. This is the training ground where individuals go from being just another piece in a game of chess to the creator of the game itself.
2019 UPDATE: NO MORE AVAILABILITY. Please do not request a 2019 spot. You will not get a reply. Please join the 2020 waitlist instead. We received 5,437 applications to fill just 500 spots, with minimal promotion! The next round of invitations will be sent 31 December 2019. (See important details below.)
IMPORTANT DETAILS
There is no charge to join the waitlist. There are charges to join the program. The program costs will be shared with chosen candidates only. We guarantee a program ceiling price of $3,820 and a zero-risk refund policy.
You can only attend if you are invited to attend. If you are invited to attend, you will be sent an exclusive invitation with private details for the program. Invitations will be sent 31 December 2019 and 25 January 2020, to successful candidates in order of priority.
There are strictly limited spots for each sitting. Only 30-50 spots. No exceptions. We are currently receiving 10 applications for every single spot on offer, so applications are exceptionally competitive. We apologise in advance if we are unable to offer you a spot.
Venue locations are undisclosed and ONLY revealed to chosen candidates and event coordinators.
We hold a signature brand of special intelligence and guarantee the exclusivity and superiority of the intelligence we deliver to candidates. You will not find another course on the planet that offers our signature tools or sophisticated combination of lessons. This is backed by a money-back guarantee.
All qualified candidates must agree to a non-disclosure agreement not to resell or distribute our special intelligence delivered inside the program as a requirement for entry.
# BEST NEGOTIATION COURSE DUBAI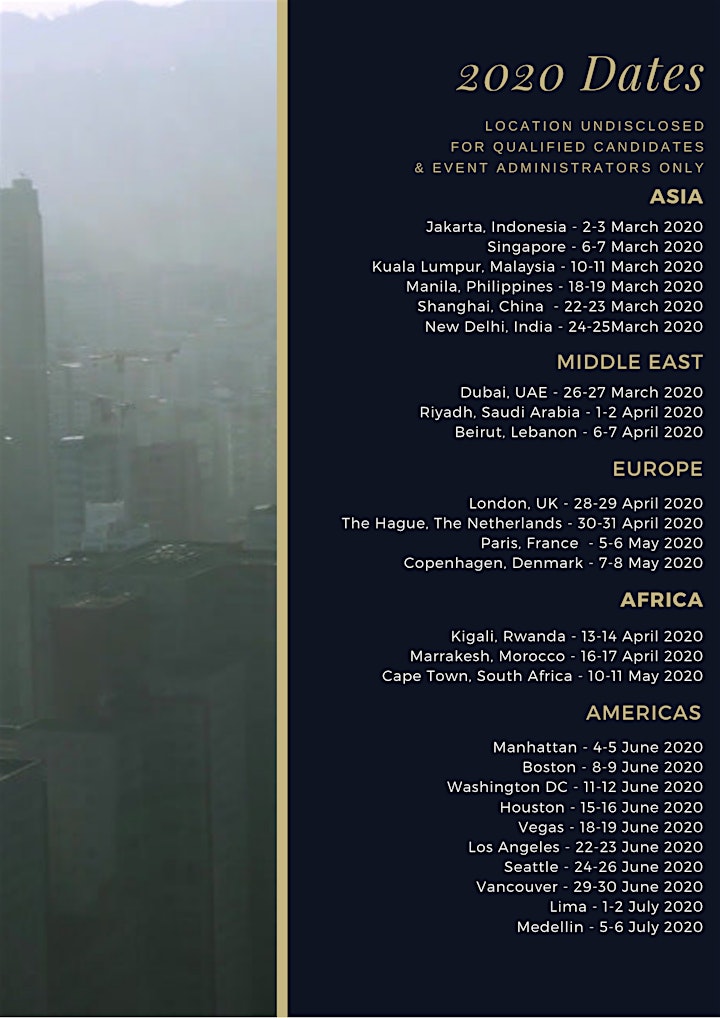 When & Where
Dubái
Private Address Dubái, Dubái , Dubai, AE

Until

()
Organizer
Jamie Nuich
Special Experience
Jamie has managed 1,000+ disputes in commercial litigation, business and mediation (from $1 to $7bn, from pedestrian gripes to monster litigation). But she also has as much experience managing complex relationships that work well for SME businesses, in high-end corporate consulting, politics and diplomacy. By her first year in law, Jamie was appearing in court and mediations against partners/seasoned lawyers twice her age, quickly earning a reputation for being "tough as nails" - fearless. brilliant and unflinchingly ethical - using the very tools shared in this course. ​She's appeared at the United Nations and travelled extensively to complete research in diplomacy and conflict, including a three month assignment in the Balkans, studying the Yugoslav wars and the state of affairs in the Balkans today. ​Jamie has experience as a lecturer in ADR, is frequently asked to appear as a guest speaker at universities and government departments, being recognised with prestigious tertiary and state awards in mediation and negotiation.
The Difference
Jamie has been privately schooled in the training of the old masters: rhetoric and dialectic reasoning. She blends her training with street smarts - marrying the persuasive powers of state leaders with the grit of everyday hustles - to break down and resolve everyday human conflicts and tensions.

The Message
Jamie is a staunch advocate for playing fair in negotiations. She teaches that you don't have to stay stuck in bad disputes unless you want to stay stuck in bad disputes; just as teams of lawyers, lies and intimidation are not your only options to get out of bad disputes if you want to get out of bad disputes. She teaches that all you really need to manage disputes well is good character, wisdom and dedication ... and then, after that, you can never have too many tricks up your sleeve to curb incidentials.