The Accelerator Startup Bootcamp
Until ()
About this Event
Learn what it takes to start and grow a purpose-driven business. We are currently waiving the $2,790 fee for all participants.

The Accelerator Startup Bootcamp at CanaGlobal is a hands-on training bootcamp for startup founders. It's an amazing experience where you'll learn what-it-takes to start and grow a purpose-driven business.
Moreover, you'll learn how to connect the dots between business, purpose, success and faith.
Bootcamp Dynamics: Cohort Meets 11/10, 11/24, 12/8, 12/22
Attend four Sunday bootcamp sessions over 8 weeks. (6p to 8p)
Project assignments follow each bootcamp session.
Attend Lab Talks, our entrepreneurial gatherings every Thursday at 6p. Food and refreshments are provided.
One-on-one mentorship.
Sunday 11/10: Think Big – 100X What's Possible
Did you know that your perception of what's possible frames your future? What would you set out to accomplish if you had all of the resources and knew that you could not fail?
>Goal: Setting Your Business Revenue and Personal Wealth Goals
Sunday 11/24– How To Validate Your Product/Market Fit
What's the big problem you are out to solve? How is the problem epidemic, and how did we get here? What's the solution and your role in it? How do you roll these answers into a business model that will attract your target audience creating ample revenue and profitability?
>Goal: Develop Your Business Model With Lean Business Canvas
Sunday 12/8 – How To Communicate Your Digital Brand Strategy
Your target audience has already developed a palate for digital/analog experiences that feed their hunger and pain. What is the message, experience and design that will transform your segments into customers?
>Goal: Planning a Killer Website and Content Strategy
Sunday 12/22 – How to Market and Sell Generating Consistent Scalable Revenue
How can you make it impossible for your future audience not to know who you are? What are the actions that build awareness, influence and educate? How will you lead your audience into your customer acquisition funnel?
> Goal: Creating the Ultimate Customer Acquisition System
**Project Labs Follows Each Bootcamp Session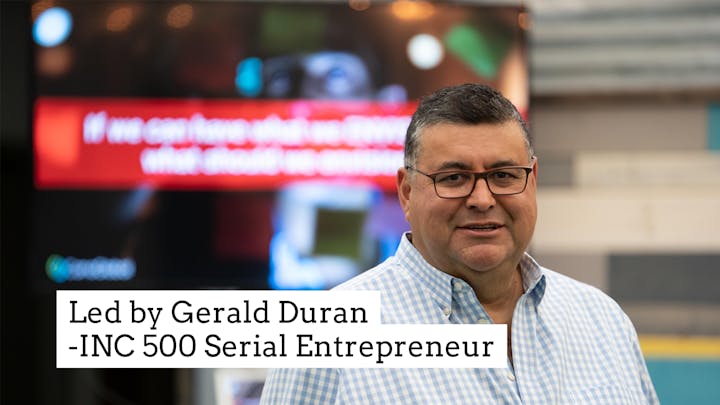 The Accelerator is led by Gerald Duran, an INC 500 serial entrepreneur and the CEO and Co-Founder at CanaGlobal. For several decades he has helped entrepreneurs develop and reach their dreams. His passion is helping people connect the dots between business, purpose, success and faith. He is the author of two books, HisPlan MyPlan and Ignite Your Success.
Prior to Co-Founding CanaGlobal, for three decades Gerald has been the Founder and CEO to multiple ventures in the staffing, higher education, marketing and business turnaround sectors. Gerald's entrepreneurial knowledge and expertise has landed his ventures, multiple times on the prestigious INC 500, Deloitte Technology Fast 50, and Business Journal's Top 25, Corporate 100 and the 40 Under 40.
When & Where
The LAB Entrepreneur Center at CanaGlobal
15916 Crenshaw Boulevard Gardena, CA 90249, Gardena, US

Until

()
Organizer
CanaGlobal
What We Are Doing At CanaGlobal-
We are developing a community and 88,000 sq. ft. indoor-outdoor coworking campus in Los Angeles (South Bay) for purpose-driven entrepreneurs, small businesses, freelancers and creatives who are connecting the dots between business, purpose, success and faith.
Visit www.cana.global for more information.